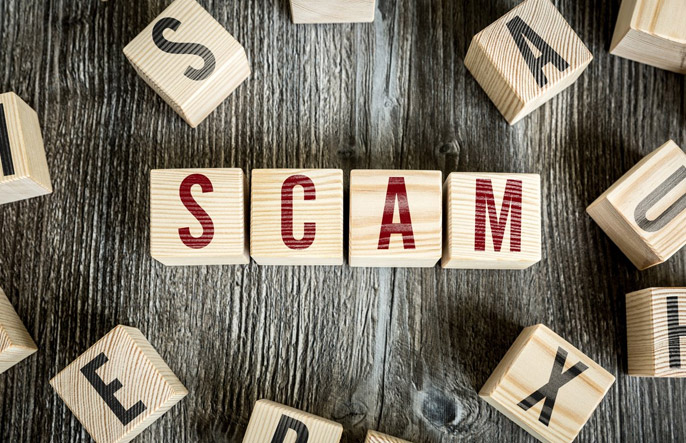 I always say "Whatever Is Possible In Offline World Is Possible In Online World" and unfortunately Scam too happens in Online world Just like it happens in real Offline world.
When I was kid I remember of a shop (Obviously taken on rent by scammer) which used to offer furniture and electronics items at dirt cheap rate claiming he is offering heavy discount as he is buying stuff directly from factory in BULK. Slowly it became popular and people started standing in queue to get the highly discounted products!
Shopkeeper then announced due to heavy demands he finished with the stock and only can take advance and book orders. He did it once or twice to generate more faith and fulfilled all orders for which he took advances and yes once again at dirt cheap rate with unbelievable discounts!
Every time he announced advance booking people will come in massive numbers and pay him huge cash to book bigger orders for more items; when his collection reached on pick he just vanished without any notice! This was not an end; him or others taking his scam idea started operating in different parts of country and lots of people lost their hard earn money!
I remember this offline scam of past year mentioned above in connection to Online Scam (known as webwork scam) started flashing on national level news channel about a company called web work offering Pay Per Click model to their so-called advertiser (who were paying them subscription to advertise) and publisher or investor who were clicking these advertisement for earning Rs.6/= Per Click.
If I treat information published by Media correct then the total amount that been duped from over six lakh investors is around Rs 3,700 crore!!!!! **
**http://timesofindia.indiatimes.com/city/noida/webwork-based-on-complex-biz-model/articleshow/57155884.cms
To cut the long story short let me clarify I am not here to investigate any scam and this goes out of scope of this article to judge who's right and who's wrong and legal side of it!
The whole idea of KOTAK no-nonsense digital marketing is to make business owner aware about grey areas of digital marketing and to stay ALERT!
Understand how this Pay-Per-Click situation works wherein you as a genuine advertiser been charged per click to the link you have offered to make people visit your promotional page with the hope to generate more visibility and business!
Matter of fact these links are not clicked by prospective customer but possibly by publishers / investors who want to only earn per click money as he joined some scheme of work from home by paying some subscription amount. Fake Person appears as visitor to your link is only to earn Rs.6/=; for which you possibly paid more than Rs.10/= and the balance been eaten up by companies providing this kind of digital / social media marketing platform.
The company make big claims in news papers or by bringing in celebrity that they have countless advertiser who are paying them per click and send links to publisher / investor or subscriber who pay them subscription fee; on each link been clicked their account been added by Rs.6/=
It work like this when publisher pays Rs.5750/= He gets 10 links daily to click; this way he earns 10 x Rs.6/= Rs.60/= Per Day for 5 days a week comes to Rs.300/= a week and this way Rs.1200/= Per Month for 12 months total 14,400/= per year. So by investing Rs.5750/= one time you earn Rs.14,400/= in a year!
More plan goes like Rs.11,500/= for 20 Links, Rs.28,500/= for 50 Links, Rs.57,600/= for 125 links & Rs.1,10,500/= for 250 links making you earn Rs.6/= per click for 12 months excluding each Saturday & Sunday. Needless to say most of investor would have gone for Rs.1,10,500/= plan or even more in the name of multiple family members.
Pay attention on that fact that; If you have joined such online digital marketing scheme as an advertiser you are getting nothing but all fake clicks. If you join as a publisher or investor what you earning is for clicking on fake links (if there are no advertiser they send you to fake pages which sells nothing).
What happens at the end is company operating this kind of online pay-per-click scheme winds up suddenly. When they launch this model to generate trust & bring in more subscribers keep paying click charges regularly for first few moths. When it reaches as what been mentioned on pick numbers; six lakh investors investing around Rs 3,700 crore it closes the SHOP! And when you compare these two examples; you will understand that why I said this in beginning Scam too happens in Online world Just like it happens in real Offline world.
So moral of the story is never ever trust this kind of third-party pay-per-click schemes!