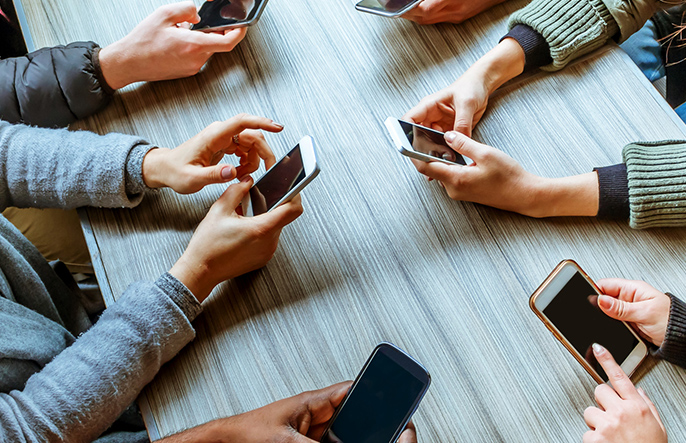 15th August 1947 India Goes INDEPENDENT; Exactly after 48 Years on the same Day INDIA goes ONLINE! It's 15th August 1995, when Videsh Sanchar Nigam Limited (VSNL) launched Internet access in India for Public.
We moved from Physical / Real world to Digital / Virtual World. This was not done overnight. After every 5 years (4 times so far) there was major change in the way technology been used and with every change it was bringing new challenges for businesses to market their product & services DIGITALLY.
Major Change in technology and launch of social media platform every 5 year was making our consumers slowly becoming addicted to technology and social media platform.
Earlier they were only reading news paper or using radio / TV; now medium they use to get access to information is growing fast; Customers eyeballs are jumping quickly from one media to other in no matter of time;
While the Media reach is changing fast, the devices clients are using changed faster. From Big to Small, and from Desktops to Laptops; Tablets, Handheld devices and finally Smartphone and hence the scope of businesses as an advertiser increases; we need to reach on every devices they use & every social media or search platform they hooked-up to majority of their time.
There is no Free Lunch and so rule remain same for All Publishers like Google, Facebook, Insta, YouTube, Tweeter etc wanted you and the smart phone users all across the world to stay addicted so huge content been generated & In Turn Publisher / social media platform earns a lot of advertisement revenue.
As a business it is very important for us to understand What Really Changed? As it was rapidly changing the way we market our products / Service.
Generating leads from internet was getting converted from Free (Organic) to Sponsored or Paid Advertisement. It was Pay To Play or Pay For Visibility; or else your business & services are not seen to prospective buyer where they search. End Results leads generated from INTERNET started declining & Digital Platform we need to remain presence increased day by day.
More Spend Lesser Leads & So pressure on ROI Return On Investment. I want to pay focus on following milestone / Chart which lead to what all been explained in article above & This is What Really BIG CHANGE for us!
| | |
| --- | --- |
| Internet | August 1995 |
| Google launched as free from advertisement search engine in | September 1998 |
| Google Launches Self Serve online Advertising Platform | October 2000 |
| FaceBook Launched | February 2004 |
| What's App Launched | May 2009 |
| Facebook Acquires Whats App | February 2014 |
These are the major technology & social media changes which we came across during 25 years phase by phase. Though following major changes in between also added fuel to the DIGITAL FIRE!
Other Major Changes
| | |
| --- | --- |
| Android | September 2008 |
| Insta Launched | October 2010 |
| Facebook Acquires INSTA | April 2012 |
| JIO Commercial Plan | September 2016 |
Last sbut not the least SO Is it More of Fear Than Fact? Fear is actually becoming fact because of the technological / digital & Social Media platform & what bought this TOPIC WHAT CHANGED & HOW?
What's the way out? This calls for deep study about the subject you can start here @ https://www.kotak.co.in/reading-sequence.html Free of Cost or Invite Kotak for 2 hours session on Digital Marketing @ https://www.kotak.co.in/invite-kotak.html