In the last three decades, penetration of the Internet and mobile technology has continuously altered the rules of how businesses work, whether small or big. We now live in a DIGITAL FIRST world, and every organisation needs to bring digital touch to their business.
Phygital (physical plus digital) is the mantra, be it for B2B (Business to business) or B2C (Business to consumer) market. "Nothing is going to die; Nothing is going to STAY!" Merging online and offline methods is the key to every business's future.
Bringing Digital to your physical method of working is tricky, and relying on multiple third parties solutions will not only be ineffective but also lead to substantial non-productive financial investment.
If Businesses learn the Digital way, it will be easy for them to connect it with the physical form of working, which is their expertise acquired by running a business. Twenty-seven years of INTERNET in INDIA brought us to a stage where OUR BUSINESS DOES NOT EXIST if we don't have a DIGITAL PRESENCE!
Manoj Kotak started his IT carrier when Personal Computers were launched in India & online Industry in 1995; when India got the Internet, Manoj saw the transformation from the physical(manual) way of working to digital very closely. His experience has given him a unique ability to connect the use of digital technology for every physical/offline business.
He believes in Self Learning first before hiring someone to do the job, especially when it comes to bringing digital touch to your business in a proper way. His corporate training sessions conducted in 16 cities attended by 8500+ attendees give him an edge & experience in designing unique corporate training modules for every Industry. Corporate training modules are standard and highly customized based on the need of every business.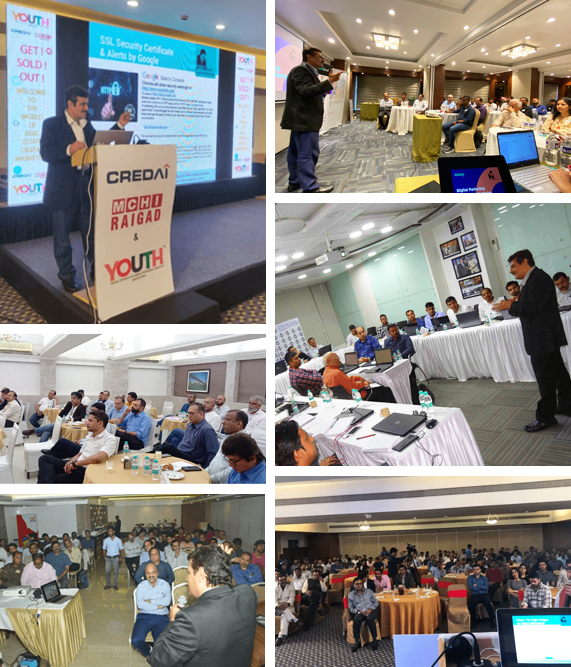 Few corporate Training Sessions conducted by Manoj Kotak
1
Digital Marketing For Everyone
2
Bringing Online touch to the retail printing industry using web-to-print technology
3
Connecting Parents to Teachers and school management for Schools
4
Complete digital marketing strategy for Real Estate business.
5
Marketing to room booking and online payment for Hotel Industry.
6
E-commerce for retail business
7
Online Marketplace for business association
8
Digital tracking for the transport industry
9
Customer Relationship Management (CRM) using online methods.
10
Support ticketing for industries that need to provide heavy direct support to a large customer base.
11
Online Print Procurement for Corporates with multi branches all across the country.