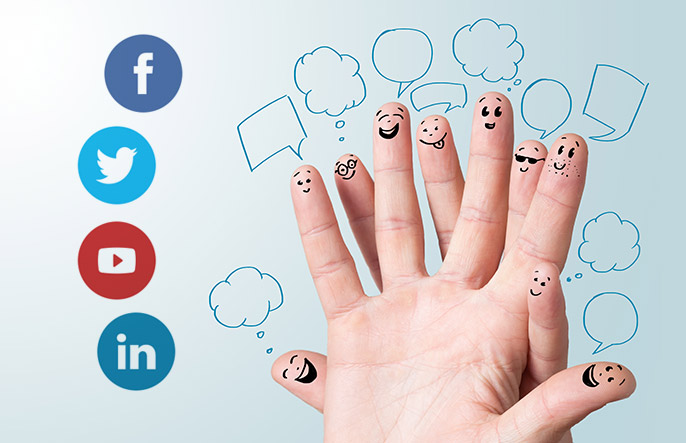 I always say Digital & Social media marketing is intelligent clerical task; which means creating a marketing plan requires knowledge of the subject and intelligence to start; though once done its lot of doing!
I feel every site owner should have knowledge of digital marketing as well as social media marketing; they should get involve in listing tasks or making road map or digital marketing plan. Once done it's upto you to do it yourself, hire in-house social media executive or outsource it to social media marketing agency.
In the Lets Begin & Plan section of "Reading Sequence" we already covered planning of Content creation and distribution along with on-page & off-page SEO / Search Engine Optimisation which falls as part of planning for search engine friendliness of site and spreading your site address all across web! (where ever possible)
The other most important avenue for digital media marketing is Social Media channel where in you get visibility with direct client (one to one). Though as such on social media people come and share social messages and hence you can not hit them directly with commercial posts, articles or video. This is where comes making of Social Media Marketing Plan.
First depending on product or services you offer to start with you need to select one or all of popular 5 social media channels FaceBook, Twitter, YouTube, Linkedin (Ideal for Business to Business products or services) & SlideShare (Now acquired by Linkedin).
Each of them depending on their theme allows Post, Tweets, Videos, Articles and Powerpoint presentation. Here is where you need to make a plan; will publish on all social media channel or few of them? frequency of post? Replying when user engage with the post & monitoring results.
Simple way is to make a table write down each channel on Top and tasks on the Left and side in the first column
| | | | | | |
| --- | --- | --- | --- | --- | --- |
| Tasks | Facebook | Twitter | YouTube | Linkedin | SlideShare |
| Account Creation | Yes | Yes | Yes | Yes | Yes |
| Writing Profile | Yes | Yes | Yes | Yes | Yes |
| Weekly Posts, Article, Tweets, Video, Slides Photo Albums for Facebook | 2 | 7 | 1 | 2 | 1 |
| Monitoring & Replying engaged Users | Yes | Yes | Yes | Yes | Yes |
| Analytics | Yes | Yes | Yes | Yes | Yes |
You have to actually design page or profile keeping in mind uniformity of your website or corporate identity for each of social media channels suggested above. Your website designing company can help you to design the same. If you have good quality content already written in advance you can also subscribe to automated post submission to multiple social media channels like https://hootsuite.com/plans.
This way your weekly post tasks is kept on automatic schedule that helps you focus on Monitoring, Replying & Analysing visitors you generated using your Social Media Marketing Plan.