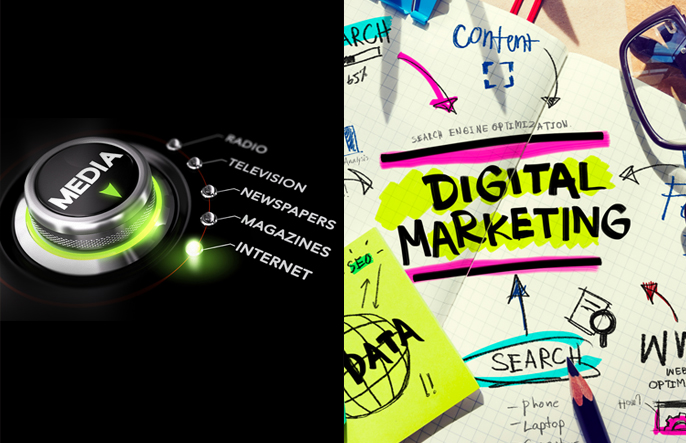 So far we have covered about need of digital marketing / social media marketing along with first step of designing website and start promoting it using search engine optimisation. We also discussed about monitoring results / goals using free tool google analytic.
Needless to say digital marketing is vast and I am trying to cover it with step by step approach and hence suggesting readers to go through "Reading Sequence" ; though before we begin our journey its important to take a break and understand how traditional way of marketing been transform to digital way of marketing.
I am referring to days when Internet has not been invented and brands were relying only on traditional medium of TV, Radio, News paper & all possible Indoor / Outdoor advertising. Brands were spending huge to reach national level visibility / eye-balls with so-called Media planning which might be close to correct but still based on lots of assumptions. Target was to reach every consumer's eye balls wherever possible.
Only Huge advertisement budget can not work without well thought of advertisement & clear message for consumer to remember products forever; and hence brands were investing more to hire reputed advertisement agency, celebrities to endorse brand and buying out every possible indoor / outdoor media to every corner of country .
We were leaving in the world of PUSH MARKETING; Brands were PUSHING their advertisement message of products or services we might not buy immediately. Manufacturer wanted consumer to remember their brand names forever so when need arises consumer go and ask for product of a particular brand he came to know through advertisement!
Like Rich becomes richer very few brands were able to break the ICE to reach national level due to heavy investment. This also gives birth to unstructured low-cost push marketing attempted by small local business, SME, Professional like lawyers / doctors or a shop owner. Ultimately consumers were facing push advertisement messages from everyone.
So lets imagine this scenario; early morning while having Tea you pick up a news paper and you see fall of thin low print quality leaflets for local saree shop, restaurant, coaching classes & all kind of local business in your area; business owner goes to paper distributor pay them money and insert the leaflets with the news paper.
Fine! you started reading news which is possibly first 2 page full of advertisement of e-commerce site, real estate, chocolate, bicycle, high-end brand watch or even imported car. Advertiser though did some media planning and know the reader base of particular news paper but we come a cross item selling for Single rupee to millions of rupees.
You got ready for work and hired Auto (tuk-tuk / Rickshaw) or taxi and you might see advertisement inside as well as outside. Assuming you travelling by local train you might see huge boards of advertisement near railway station, you board th train or if you travelling by bus or metro you see small advertisement while you are holding if you not been lucky to get a seat. Even if you are driving a car you see big boards on main roads and highways!
Rest room / urinals too are not excluded and so as movie theatre where in they proudly announce "Commercials are part of feature film". You taking a flight welcome aboard you will see advertisement in different form there too.
The whole point is as a consumer I might get information on product and services I don't want to buy NOW but have to recollect or remember brands when need arises. This also means small business and entrepreneur who can't afford hefty advertisement budget always struggle to get attention of consumer to the products & services they are offering.
Even for brands there was no direct calculations on what medium worked better and success of brands is base on how popular it is by connecting it with sales figures v/s total amount spent for building a brand.
As per push marketing rules everything was pretty fixed and hard-coded. We all wanted a change; brand always look for more controlled visibility at low-cost and consumer wanted a more control on finding the information on product and services when they really want to buy it instead of getting forced to read while they at home or moving.
At the end what is important for all of us is to understand "Push Marketing to Digital Marketing Transformation"; so as an advertiser in digital marketing world you know you are now in a better control to decide how much to spend and where without hiring an expert media planner. Read Out Next Article for Part 2