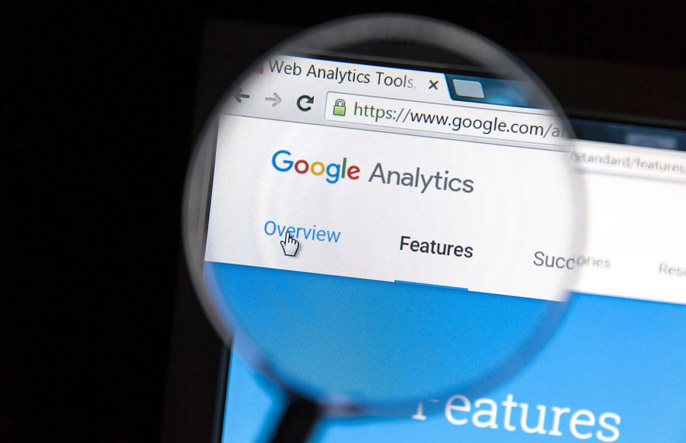 So far so good; we have learned to check our digital marketing efforts using google analytics. In the previous article we covered how to keep watch on Audience / Visitors to our website in terms of from where they are visiting; using what medium or marketing channel and pages they are surfing on our website.
This gives us some idea if our efforts are brining in viability and traffic on our website; Perfect! Lets go one step ahead and check if there's further way to find out if Audience / Visitors to our website are doing what we wanted them to do ? In simpler world are we meeting our goals? This also gives us further information on which channel of marketing we used brought in maximum number of goals; so that we can concentrate more on the channel brining better results.
Lets take an example of a website which allows visitors to Customise and print Business Cards, Brochures, Letterheads, and Envelopes online! Has set up 2 goals; they send free sample kit and offer online ordering of 37 personalised print product on their website. They use SEO, Google and Facebook's Paid marketing, emailer's to their subscriber and social media marketing to bring in audience.
In their case their goal is either visitor fill up a form for the free sample kit or ideally place an order online. They would like to keep track on % of user / visitors got converted to final goal as rest did nothing and this way they can tweak their website to convert more visitors to goals!
Before I explain with screen shot; please note you have to put forward this as main need to your website designing company who developed site, form or e-commerce platform as they have to do some coding and link it with google analytic report.
When you login to Google Analytic it comes under the report head "Conversions" which depend on how many goals you have set further goes as 1. Goal Overview , 2. E-commerce Overview & Multi-channel Overview

Goal Overview give you the total number of goals completed for each defined goal; in our case Free Sample Kit & Completed Orders, % of total number of visitors got converted to goal along with goal abandon rate which means % of completed goal users started the goal but decided to quit without completing goals. Refer to Screen Shot given below;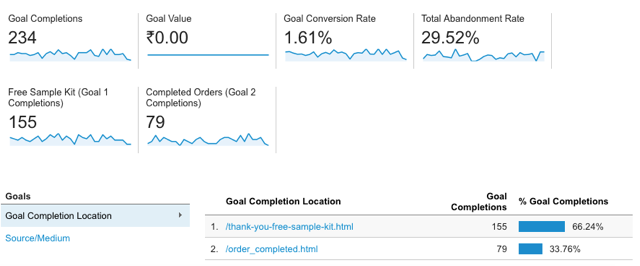 E-commerce Overview – Gives you e-commerce conversion rate to number of visitors visited, total number of transaction, total turnover and average cost per order along with list of items and number of orders each item generated Refer to screen shot given below;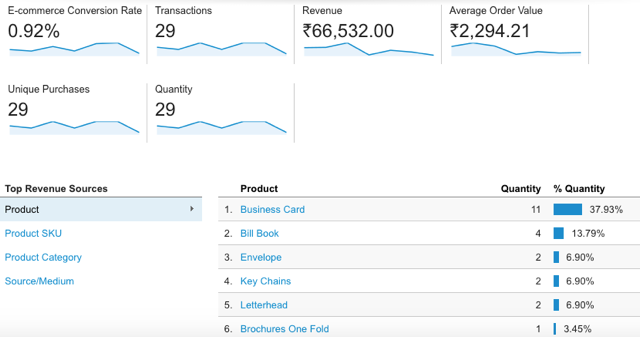 Multi-channel Conversion Overview gives you which channel lead to successful goal conversion in % to total goal converted as referred above with goal overview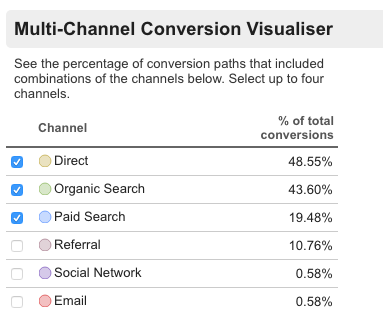 The earlier article was referring to ready-made report generated by google by simply integrating free code to your website; Though this kind conversions reports do need some code customisation and code integration on your current site by your website develope but if you observer example screen shot it gives you lot of insight on your digital-marketing / social media marketing efforts v/s actual results it brings in.
At the end idea is to make you aware that if you follow the process your digital marketing can bring in better results. Its more of you must know it; even if you can't do it! Once you know the correct way you can hire right vendor to meet the same.