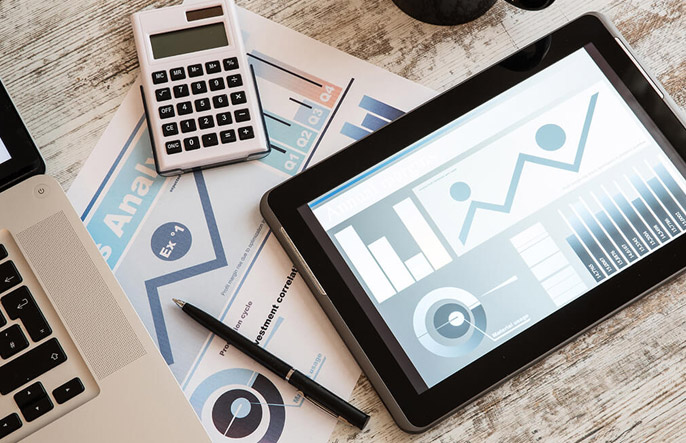 Compare to off-line marketing reach of digital marketing is very vast & un-restricted as anybody from any part of the world can jump on to your website by directly typing your website address or by searching keywords from search engine. Other ways people reach to your site are your paid advertisement on internet, email, Blogs, PR article, social media marketing and all other digital marketing efforts you put in to promote your website.
So far we have covered only first step of digital marketing which is designing a website and registering the same with search engine after optimising to start promoting it. In future we will cover complete digital marketing strategy.
The whole point; whether you do digital marketing in-house or outsource! It is very important to watch results of efforts been spent. As you are aware of the fact that lots of efforts, research, content and cost spend to make & maintain a website which is just the beginning there are multiple digital and social media marketing steps which we will be covering in future.
Every advertisers based on their size and budget has different goals and expectation from social media and digital marketing. Big brands with hefty budget possibly using this medium most effectively to bring in more visibility at fraction of cost compare to other offline media like News Paper, Radio & TV. Medium Level company mainly focused on B2B segments are working on generating leads and last but not the least SMEs, Entrepreneur & Individual consultant looking for generating Performance or business.
Other problem is multichannel marketing. What I mean is we start with Organic Search Engine Optimisation and then phase wise go on adding more like Google Paid Advertisement, Email Campaigns, Social Media Organic & Paid efforts, PR articles, Submission to multiple blog belonging to our Industry, Link building etc. Though efforts goes from zero cost (Organic) to lot of money based on budget (Paid Marketing) for each channel it's very important to measure what works & what not?
Are each of my efforts bringing in enough results in terms of visibility, Lead or performance? V/s what I am spending to generate each of them. If I can stop / pause my efforts on one channel as it's not performing well and double of efforts and investment others which is bringing better results?
As digital marketing efforts don't have any boundary / restriction for restricting people visiting from certain part of the world; might also bring in visitors from the area where you can't offer your products and services. So you will have to also check Is my efforts spent on different digital and social media marketing channel bringing in visitors from area I am not looking for to serve?
That's not an end; being the digital virtual world of marketing which is getting accessed using different size and kind of devices (smart phones, tablet, laptop / desktop) we have to monitor devices they are using and so present our content to suit screen of device client is using.
We also have to understand what interest the most to the visitor who visited your website, what is the source using which they reached on our site (direct, search engine, social media platform & / or paid marketing), duration for which they stayed on our website, page from where they entered and finally from the page they decide to leave a website. What action did they performed while they were on your website; And yes you have to keep log of every second, every minute, every hour 24x7 356 days a year! So that you can review it date wise when you wish!
What if we can directly connect our efforts to goals which could be enquiry form or direct online sales where people pay online. I mean a report which tell us if 100 people visited 10 of them 10% filled up a form; this could help us tweak the site to meet better goals.
At the end my focus is to make you aware that we just can't spend time , efforts and cost on digital marketing without monitoring; every efforts needs to be monitored, if not functioning tweak it a bit and re-monitor and it goes in a loop till we get the desired results.
So the last question Is it possible to check the things way it's explained in the article? Do you have 24x7 watch dog like monitoring tool for your website? Yes; in this article we wanted to cover why monitoring? And in the next article we will be covering Free powerful tool which tells you who did what on your website in what duration & if you can finally meet the GOAL!