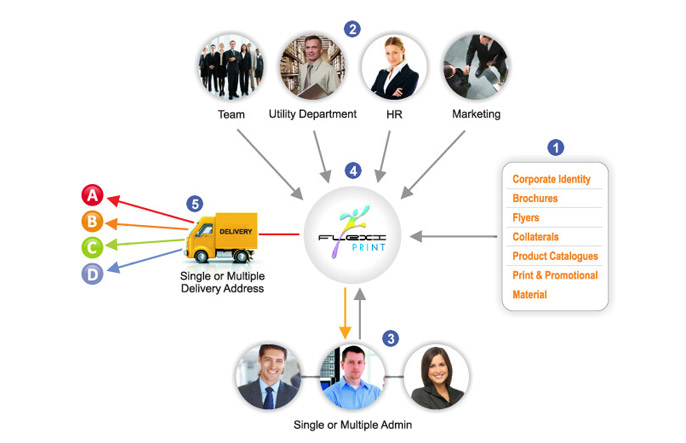 One of the theme at KOTAK.CO.IN is covering new, innovative or unique technology which can save lots of time and cost in our day-to-day life. While taking session on digitalisation; utility department / print procurement department of corporate group expressed their concern on wastage and lead time to oder and procurement of printed office stationary. The group is having 17 divisions / branches all across INDIA and 3000+ employee requiring office stationery like business card, letterhead, envelopes, file folders etc on daily basis.
The major challenge is every division though need Business Card, Letterhead and Envelope textual matter such as name of company, name of person, address & logo differs for each division. The other problem is they might want to order 5000 qty of letterhead as it's a fast-moving but only 200 business card per employee as all of them don't meet clients where they need to share their business cards.
To keep up with the corporate identity and uniformity what corporate need is normally one printing vendor (as print quality changes based on printing machine). Printing in small quantity like 200 business cards is also not possible always in shortest possible time.
Problem they were facing is print procurement and digital asset management of their printed office stationery material . All this natural print process challenges were bringing huge losses in form of wastage and frustration as printed material required on day-day-day basis were not been delivered on time affecting major productive time of admin team.
Being headquarters in Mumbai company had full-time Team looking for print procurement division with brand manager who is most of time busy communicating with different division heads on their need.
This was more of decentralised printing orders at single centralised print site and yes when you print at single place added challenge is logistics. Printing at centralised place was important to support uniformity in print and paper quality.
It was all mess due to huge stationary printing for 3000 employees at 17 different locations all across country. Here is web to print based online printing technology came to rescue for this corporate print procurement and digital asset management challenges.
Web to Print is
A web-based platform which allows an online generation of print ready files which one can individually modified and delivered to printers for processing and printing
Web to print technology does not expect its users to have knowledge of any designing or editing software. All they need is an Internet connection and a Web Browser!
Technology in the back-end connects single print vendor and logistic / courier company. Each division can create direct login account either for all 3000 employee to order printing of office stationary or can give access to print manager in each division.
The system allows users to see all print material that each division normally orders; if require change name of employee in case of business card, see the digital proof online and place print order.
System works out schedule and send alert to printing vendor as well as courier company with auto tracking details as soon as print material picked up from printing company.
The results were amazing; wastage reduced drastically as earlier huge quantity been ordered in anticipation to avoid lead time which was resulting in wastage if any division has change in address, phone number of employee who leaves the company.
Delivery time reduced to 3 days anywhere in India from earlier 7-15 days. Its automatic and easy to generate report on click of a button to see which branch using what kind of print material, who ordered and who approved it and if it's delivered on time.
Brand manager and print procurement division is now focused on better tasks earlier they were busy handling emails, ordering and delivery.
The technology is very much developed in INDIA & more information can be found at http://www.flexiprint.in/corporate-printing.html