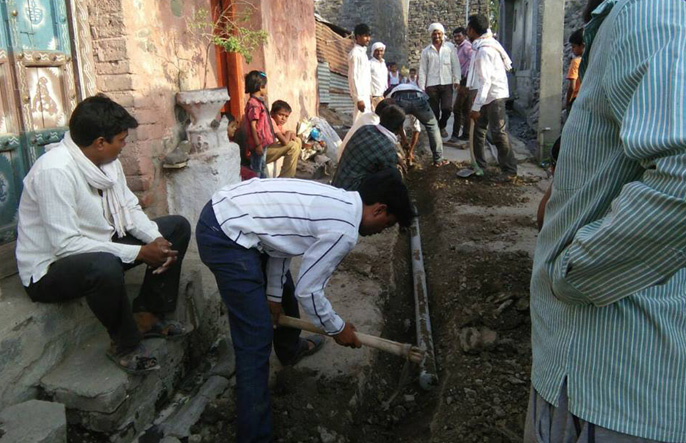 IAC India Against Corruption by Anna Hazar-ji & Lokpal bill was taking Delhi by storm and that wake me up too with ray of hope to Join AAP in Mumbai which has its origin in the India Against Corruption Movement. I really don't know but it was spur of the moment which drive me to Andheri opposite Golden Tobacco where AAP Mumbai had temporary headquarter. I reached early to find gates closed. I came back after some time and found bit of crowd though self-disciplined Queue!
I was 15th In the Queue after getting noted my name in the register (By wife of Man On The Mission); People were plenty but they were in a group and I was the only one. My turn came & I said "Sir I don't understand politics but I want to Help"; he stood up and said my friend; I too don't know the politics tell me what you do and we will see where can we seek your ability for the movement!
Yes Mayank Gandhi my first meet with this "Man On Mission!" His simplicity & calmness while he was handling 14 Group before me; already convinced me that this is the man who's really out for mission of "Building Our Nation INDIA"!
We all know how IAC and Lokpal movement turned the group now ruling Delhi! (with due respect to Shri. Arvind Kejriwal & his team); many of AAP core team though decided to move on with their focused Agenda of Nation Building. Mayank Gandhi is one of them!
Casual contacts were on and so as been regular follower of his FB Page https://www.facebook.com/mayank.gandhi1 I came to know about his very unique project to supply water to drought affected area in Beed (Maharashtra); By opting service from crowd funding platform Ketto and support of NGO Fulora Foundation they collected (If I am not wrong to claim) Rs. 30 Lacks to supply 1.57 Cr litters of water in 15 adopted villages.
Yes we do want smart cities but to use smart city we want humans who at least need water to survive! Being in this field of website designing & development I many time got opportunity to meet Mayank Gandhi to discuss how can we use the web technology to promote the cause and what I learnt from him on humanity was amazing; Technology is just a medium here!
He said many of politician have given a best example of building their own village making it tobacco and alcohol free; but what about other villages were no body is taking initiative. So what if we first adopt 15 such villages and using government mechanism & schemes for villages with target of 3 years to make them Grow and set an example. Once we are successful we will make our project report / plan open-source so that anyone and every one with a will to build nation can start building his own village.
His deep thoughts and the way he explains makes you think that instead of just cursing the system ; why can't we go down to root level and start working; He said we see many of us from City regularly visit villages and give books, cloths, food etc; making them habitual to rely on donation ; instead what if we teach them ways to grow on their own and arrange for their basic needs! A perfect Quote here "give a man a fish and you feed him for a day; teach a man to fish and you feed him for a lifetime"
This has given a birth to new project by Mayank Gandhi "Global Parli" National Building Through Rural Transformation. You can see his FB Page https://www.facebook.com/mayank.gandhi1 & you will see he is all most there 3
days a week working with his team on ground level. While one of the discussion he gives me heart touching example of a boy; who is trying to speak different word in english while working with Mayank Gandhi; who asked him what's his source of learning english! And the reply is " Some one donated english dictionary & I try to remember 50 words a day and I am yet to finish it" see the hunger for knowledge people want to own and we are busy sharing jokes on WhatsApp!
Where's the technology here? Yes it is; with the help of website (Coming soon) and social media message is spreading all across the globe and getting support to the movement in cash & kind! As this man is out on serious mission of nation building.
He is taking his knowledge of government schemes (who been very co-operative in Maharashtra) and giving thought process to every sub-project he is running under Global Parli in 15 villages adopted by him!
He started with the core as "Good Governance" if it's in place can push all sub projects.
Other sub projects run & Managed are
Bore-well Re-charging, water storage and Clean water – Falls under necessity of life!
School , Cycles to School Girls, Library – providing education so they can grow
Making youth and everyone leave tobacco & alcohol so they can focus on growth
Vocational Guidance, Training to set up Small Scale Industry & Ayurvedic Plants to start earning revenue
Waste to Energy to produce resources at no or low-cost.
Target is to make them grow in 3 years time and then open the plan for other villages to grow in India. Make every village a global village. Please Join with me to help in whatever way we can to a man on mission of NATION BUILDING!