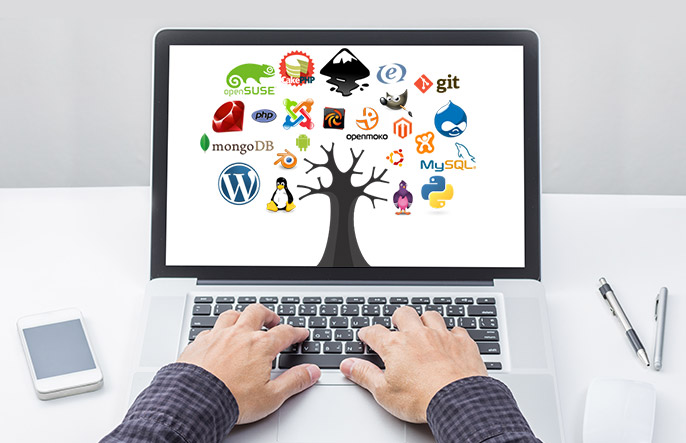 When you buy any hardware (computer), you also need to buy an operating system (OS) to run the hardware and later software to run applications in addition to cost of hardware. You need to procure same number of operating system/software equal to number of machines you have within your organization.
When you buy a machine you need to roughly spend about Rs 30,000 as cost of software (cost of OS, Office Suite, anti-virus software) plus taxes.
Do we really have better & FREE option to high in cost commercial softwares ?
If you feel cost of software is worth the task of automating within your organisation you might never look for an option. Though when you see use of commercial software becoming too complex and costly you must need to start learning about available alternate options.
The established software giants have built customised software development eco-system in such a way that to use software you still need server and / or operating system from particular software company.
But if you research little more and do this small exercise suggested in the table below you will be able to save considerable amount of cost for IT infrastructure Within your organisation
Make a sheet along with a list / numbers of computers and name of person in first two columns. Keep filling up each column for each software you use within your organisation; tick yes or no against each person and each software; At the end of this simple exercise you will realise the need of particular software in your organisation.
| | | | | |
| --- | --- | --- | --- | --- |
| Sr. No | Name Of Person | Oparating System | Office Suite | Email Solution |
| 1 | ABC | Yes | No | Yes |
| 2 | DEF | Yes | Yes | Yes |
| 3 | GHI | Yes | Yes | Yes |
Next step is to find out if you have Free software (Open source) available to save cost of commercial software.
Let's take this case study of small company into marketing of CCTV Camera, Time Attendance system and accessories. Total team and computer strength is 10. They get lead from Internet; they need to email simple Quote. What they need is Operating System , Word Processing for making quotes, spread sheet for quote calculation & email client with Internet connection to send quotes.
As discussed, the cost of above basic paid software for each machine is about Rs 30,000. and their IT infrastructure cost for 10 machines will be Rs.3,00,000/= What if you have All these basic softwares including OS absolutely free or a zero cost? Is this really possible?
Yes. http://www.zorin-os.com/ is the answer. It's an all-in-one free to download, takes 10 minutes to install and start. It has an operating system (built on Linux / Ubuntu distribution), has LibreOffice (Open Office), a Thunder Bird Mail client, Chrome and other browsers. It also has an inbuilt video and basic image editor. You can also use software like Skype, etc. Most important it's very robust, runs very fast and no known virus so far for Linux, so there's no need to buy Anti-virus software. All this simply for free.
Check these sites http://www.opensourcealternative.org/ & http://www.osalt.com/ which list down widely used commercial software & its OPEN-SOURCE alternative.
At the end, it's more of evaluating need and finding out on option. Initially you might find it difficult to work on free software (which still support and open most files created by commercial software) but when you consider the savings and the administrative task of adhering to software compliance, it would be worth the while considering a switch to partially paid, if not completely free software.