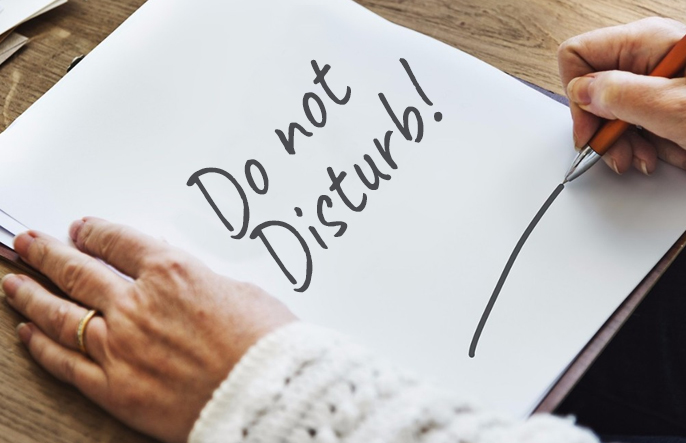 "The Indian telecom Industry with nearly 900 million subscribers is the second largest wireless market in the world"* is what written on website of TRAI Telecom Regulatory Authority Of India as on August-2017.
Wider use of WhatsApp by Indians, dirt-cheap voice & data plan by Reliance JIO forced wireless service provider to drops their tariffs drastically; with dirt-cheap rate & advantage of directly communicating with consumer (mobile owners) has made Unsolicited Commercial Communication (UCC) one of the most popular & cost-effective ways of selling products & services!
In the process no body realise privacy issue and most important irritation it brings to the cell phone users! Telemarketer calls at any time and most of the time they JUST start once they confirm your name without even waiting for your reaction; they are in hurry to read message and there are no pauses making it difficult for you to understand and stop this VOICE MACHINEGUN!
In case of voice call telemarketing company still have to invest in call centre and regular infrastructure cost including salary of tele-caller; but sending SMS been done through computer and SMS marketing companies has huge database of phone number and they offer millions of numbers along with SMS sending facility for paisas per SMS(can drop to 10 paise a SMS)
It goes to an extend that SMS to millions of people been used for SCAM; Recently mobile users started receiving tips to buy particular share / stock and sender was monitoring the results of SMS v/s buying selling of script when they see the effect they were trading it to their benefit making lots of losses to people who blindly jumped for buying and selling of shares just based on SMS tips!
All said & done we all are suffering and most of us don't know hot to stop this!!!!!! Process is not simple but it's there. You can use technology as first preference and then legal channel which gives you right as mobile users to stop this every growing menace!
Develop practice not to pickup call from unknown users; If your business or service don't allow this use an App TURE CALLER https://www.truecaller.com/ to see the name of the caller and if this Telemarketer been identified as spammer by other users who received the call from same number! Truecaller finds contact detail globally & has call-blocking functionality.
For most of smart phone you can also block number of caller. For SMS if users has sent using number you can still block the number for phone-sms but if it comes with header such as HP-SKICAR you can't block it.
Now look at legal rights you get as an Indian telecom users. All land-line & mobile users along with service provider and tele-marketer have to follow regulation from TRAI Telecom Regulatory Authority Of India. TRAI has notified "The Telecom Commercial Communication Customer Preference Regulations, 2010". All the provisions of regulations come into force from 27th September, 2011.
As a first step Activate Do Not Disturb (DND) for India – All mobile Networks by registering with The National Customer Call Preference Registry; all the information and simple steps been mentioned on home page of http://www.nccptrai.gov.in/nccpregistry/Welcome.jsp alternatively you can download PDF file FAQs: The National Customer Call Preference Registry at http://www.nccptrai.gov.in/nccpregistry/FAQs.pdf
If you are android users you can also download mobile app developed by TRAI Do Not Disturb (DND 2.0) from http://trai.gov.in/portals-apps/trai-apps ; you can also check status of your Do Not Call / Do Not Disturb registration at http://www.nccptrai.gov.in/nccpregistry/search.misc see example screen shot below;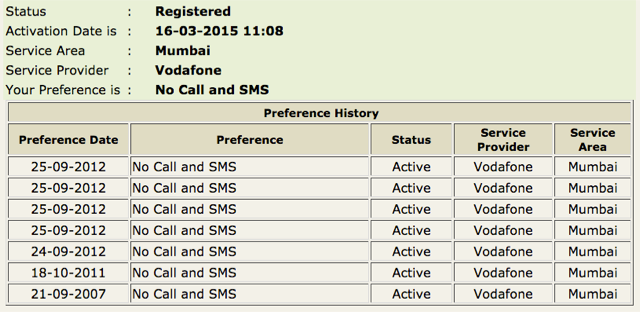 If you reached a level of "Enough Is Enough' for Unsolicited Commercial Communication in the form of marketing calls and SMSs its time to follow this step and protect yourself from this nuisance. It might not give you 100% results but i am sure it has a positive effect and you will be able to cut it drastically!